Emergency Repairs
Since 1993 HYDRO-FLO  has been providing speedy and effective emergency repairs and maintenance to all sewage and stormwater pump systems in Greater Brisbane, Gold Coast and Ipswich areas.
Our clients range from Commercial Office hi-rise,  Nursing homes, Shopping centers and Industrial warehouse manufacturing and residential apartment complexes.
All too often Sewage and Stormwater pump maintenance is overlooked until it's too late.
Most submersible pump systems are generally found under concrete driveways and basements and the pumps themselves are considered "out of site and out of mind" unfortunately when this happens, breakdown is only a matter of time.
That's where HYDRO-FLO can help. We offer an emergency onsite pump repair service for your sewage and stormwater pumping equipment.
Our service crews cover all areas from Tweed Heads to Ipswich and Bribie Island.   Just give us a call for more info on what we can do for you.
Submersible pumps require technicians that are qualified pump fitters but are also licensed electricians.    We have staff with a combined experience of over 43 years specialising in servicing and repairing Electrical and hydraulic pumping equipment is a benefit to our customers.
In the event that the pumping equipment can't be repaired on site, all repairs are undertaken in our fully equipped workshop
Onsite Electrical Repairs
Onsite Pumping / Waste removal
Easy onsite access.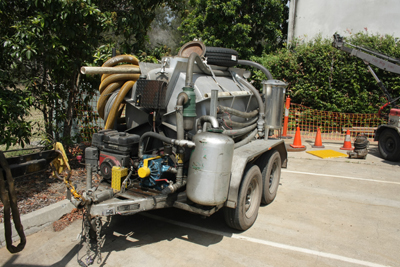 Custom designed solutions :
In the event that onsite waste removal is required ( this is most often the case ), we have a specially designed waste removal vessel, perfect for the job. It's especially designed to be large enough to have the capacity to handle the job, whilst at the same time still being low enough to be able to get into underground car parks when needed.
This is often the case in shopping centers or Hotels / motels / resorts etc.
Call us on 07 3807 0554 for more information.